Become a ski instructor too!
Are you born to ski and have you been dreaming about a job as a ski instructor in the snow? Do the 10 or 20-day ski instructor course with Snowsports! After you pass the Austrian course you can start working at the coolest ski schools in Austria and many other countries. All of our courses are in cooperation with the Austrian 'Staatliche Ausbilders', ski instructors with the highest attainable certificates in the world. A course of the highest quality!
Worried about the language? Don't be. Our 20-day course lives for the motto "understand to expand." Besides that  we offer a German language course specifically designed for the Anwärter program insuring your maximum chance of success.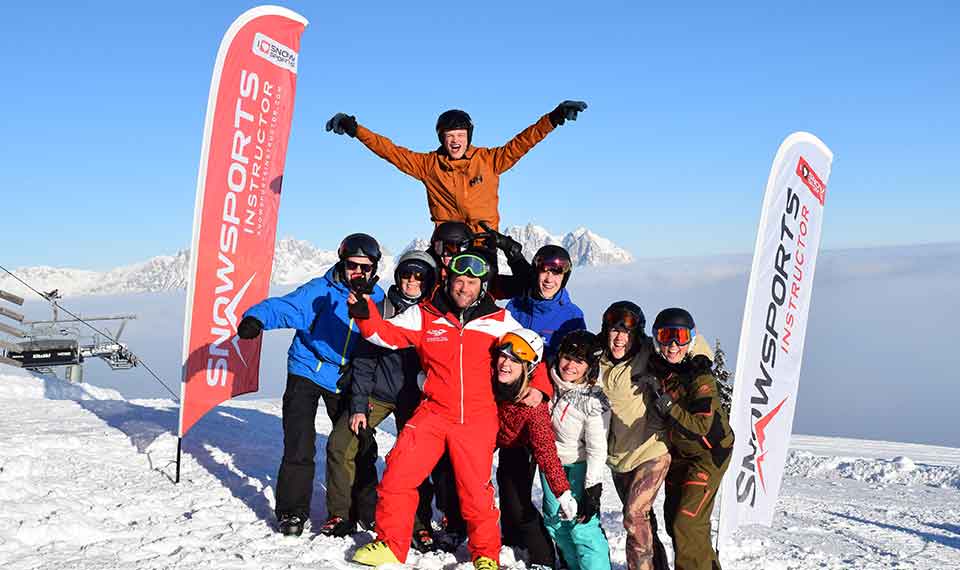 What is a ski instructor course?
The ski instructor course is both fun and educational! Your days will be spent ski training on the slopes, learning about techniques while improving your own ability and learning how to explain, demonstrate and give constructive feedback as an instructor. On your return from the mountain, you will reinforce what you have learned with theory lessons covering all aspects from organization and safety to movement analysis. Your evenings are typically spent revising the day's programme and of course, you have the opportunity to ask our coaches any questions you may have.
Do you have a question? Feel free to contact us…
The Austrian qualification system has worldwide recognition. If you have successfully completed all parts of the programme, you can officially call yourself an Anwärter ski instructor. This is the first level of the qualifications system. With this level, you can start working as a ski instructor almost anywhere in the world. So also on indoor roller tracks, brush tracks and indoor snow tracks. After your Anwärter diploma, you can start your Landes training. With that diploma, you can teach advanced skiers.
Skiing lessons are great! You get to pass on your passion to others and you work in a great environment. You give ski lessons four hours a day and then you can enjoy skiing yourself. What a dream job! When you have obtained your Anwärter diploma with Snowsports, we will help you find a job at the best ski schools in Austria. We work together with more than 350 ski schools. So you are absolutely sure of your job as a ski instructor! 
Take a look at our ski schools where you can work next season!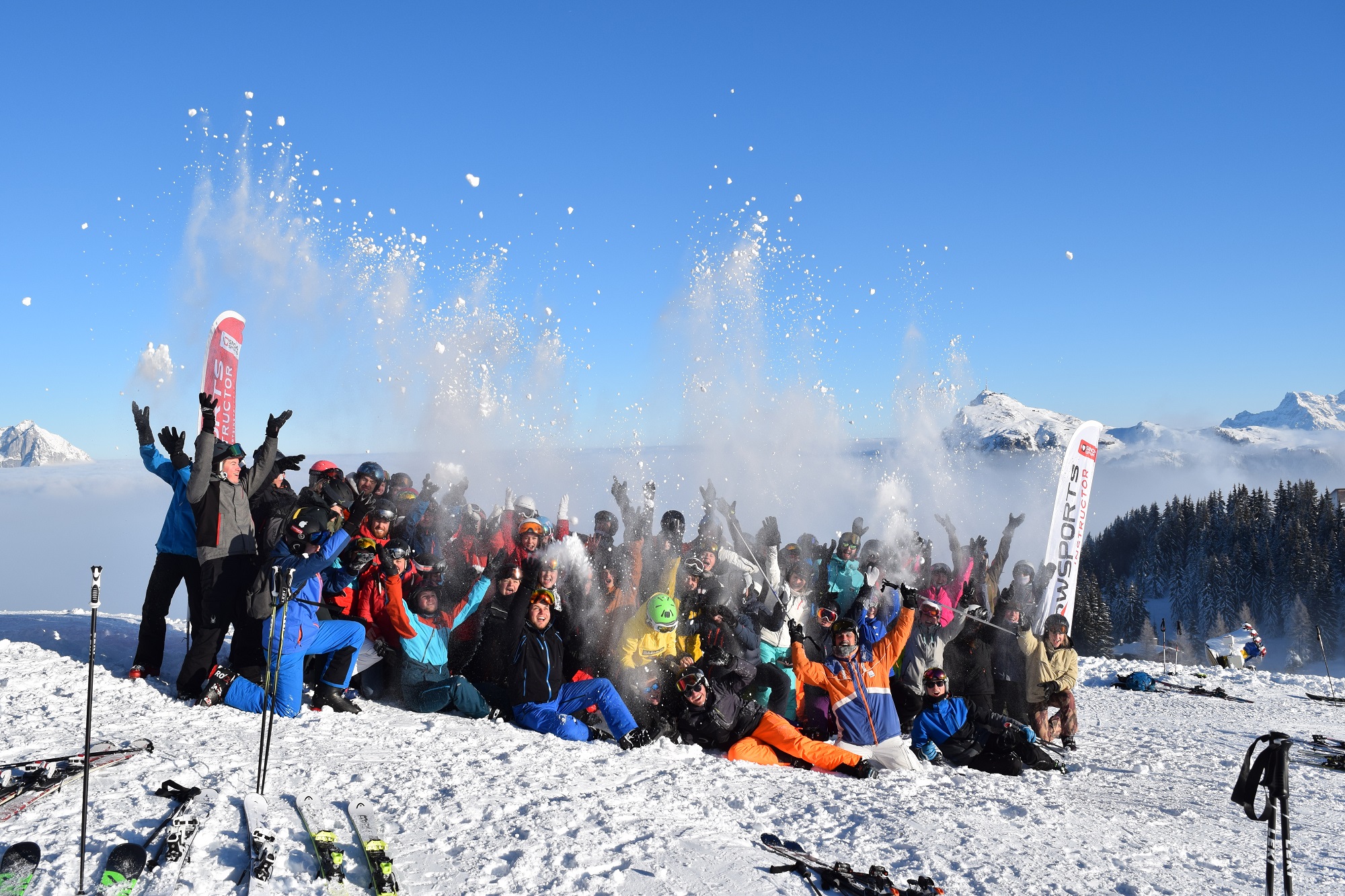 Ski Instructor Course in Hintertux The third ten-day ski instructor summer
...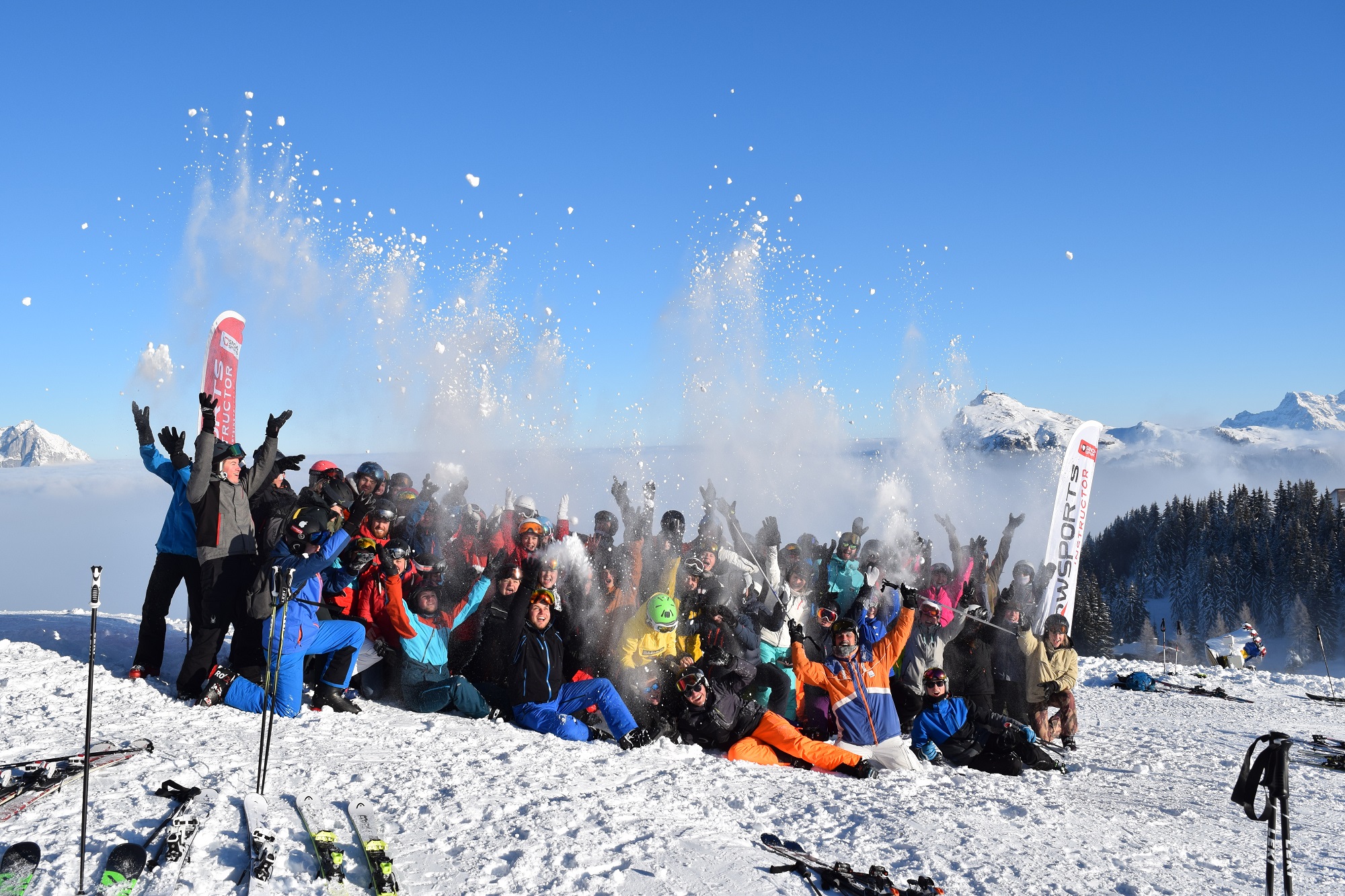 Ski Instructor Course in Westendorf The ten-day ski instructor course in
...
No event found!
Anwärter Ski Instructor course
10-day
Accomodation at a luxurious sports hotel

Online Webinar in preparation

Photos and videos of your course time

Discount at partner ski shops
Anwärter Ski Instructor course
With 10-day prep training
10-day preparation training:

Technique Training with Video Analyses

Online German course for ski instructors

Masterclass Ski Instructor

Snowsports Insurance (ÖSV)

Transfer to the ski school
Frequently asked questions
How well should I be able to ski?
A good guideline for estimating whether your ski level is sufficient to start training is the number of weeks of experience. Our experience shows that for most participants, 6-8 weeks of experience on the slopes in the mountains is sufficient to take part in an Anwärter training course. Of course, this is not a guarantee. It will be easier for some than for others. Participants with a sporting background and who already have experience with (sports) instruction can also complete the training positively with fewer weeks of experience. Participants with many weeks of experience may fall into the trap of having developed the wrong style that needs to be learnt.
As a ski instructor, you must be able to demonstrate controlled and rhythmic, long and short parallel turns on a red slope at the practical exam. In addition, you must be able to demonstrate two more basic curves at the practical exam.
If you feel confident and secure on your skis, then you are ready for it!
What practical exams are there?
The ski instructor's practical exams consist of three parts:
1) "Schulefahren", the demonstration of basic skiing techniques.
2) 'Eigen Können', the demonstration of advanced skiing techniques.
3) 'Lehrauftritt', an instruction assignment where you give 20-30 minutes of ski lessons to your own group.
– All practical aspects should be rounded off positively.
– There is an obligation to be present for all practice and theory.
What equipment do I need for the ski instructor course?
Material
We advise you to participate with your own skis, ski boots and ski poles, you are familiar with that. Before the start of the training, it is good to wax and sharpen these.
For the course, we recommend an all-round or all-mountain ski. You should mainly do exercises for novice skiers. So your equipment should not be too long, too stiff or too heavy.
Ski clothing
Whether you are following a winter or summer course, you will always take a complete winter sports equipment with you. When it comes to clothing, it is good to wear three layers. A first basic layer consisting of thermal underwear and ski socks to keep you dry and warm. A second layer is an insulating layer that stores heat and transports perspiration. The third layer consists of a waterproof layer and protects you against rain, snow and wind.
Also, make sure you have good gloves, you will do well to have two pairs during a course or season. You can also think of some thinner gloves during summer training. Good materials are a 'must' for a ski instructor. If you still need new materials, take a look at our webshop!
During all courses there is an obligation to wear helmets.