Snowboard Instructor Course
Become a snowboard instructor too!
Are you a snowboarder and would you like to work in the snow as a snowboard instructor? Then follow a 10- or 20-day snowboard instructor course with Snowsports! After you have obtained your Austrian Anwärter qualification, you will officially be a snowboard instructor and you will be able to work at the best snowboard schools in Austria and many other countries. All Snowsports courses are run by Austrian 'Staatliche Ausbilders', these are snowboarders with the highest qualification in the world and they teach you all the skills you need to become a snowboard instructor.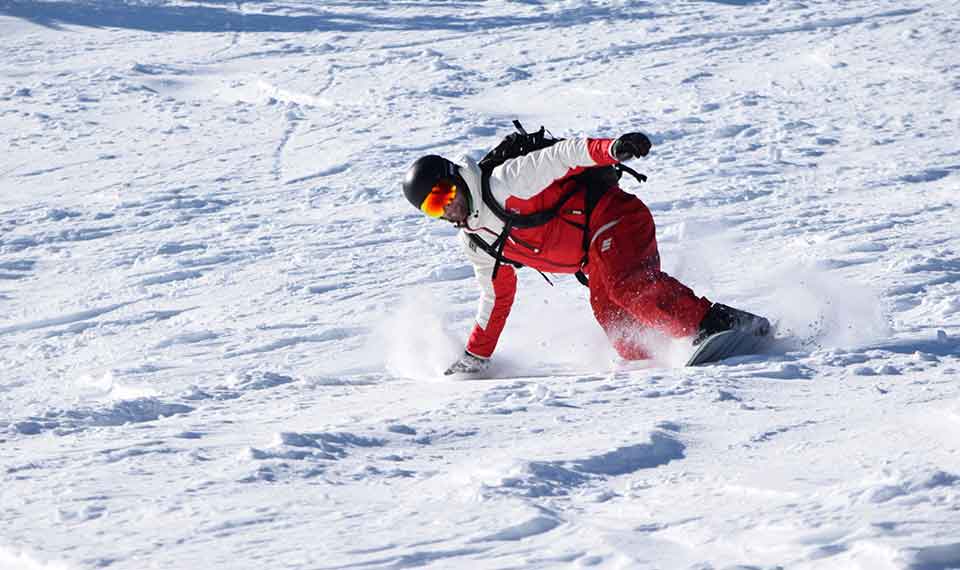 What is a snowboard instructor course?
Do you have a question? Feel free to contact us…
Snowboard instructor course
The programme of a course is super cool and instructive. You are busy all day with snowboarding. Every day you get snowboard training which makes you a better snowboarder and you learn all about the snowboard basics you need to teach your guests. After the training on the piste, you will follow different theory classes about snowboard equipment, organisation and safety. In the evening you will have time to study or chill out at the bar. Snowsports coaches will be present at various times to help you with preparing for the exams as well as possible.
More about the course programme.
The Austrian training system has worldwide recognition. If you have successfully completed all parts of the programme, you can officially call yourself an Anwärter snowboard instructor; this is the first level of the qualification system. With this level, you can start working as a snowboard instructor almost anywhere in the world. So also on indoor runways and indoor snow rinks. After your Anwärter diploma, you can start your Landes training. With this diploma, you can teach advanced snowboarders.
Working at a snowboard school
Snowboard lessons are great! You get to pass on your passion to others and you work in a great environment. You give snowboard lessons four hours a day and then you can board yourself, what a job! After your registration, you will get an overview of the best snowboard schools in Austria.
TIP: send your motivation and application as soon as possible to a number of snowboard schools and increase your chances of getting a job!
Take a look at our ski schools where you can work next season!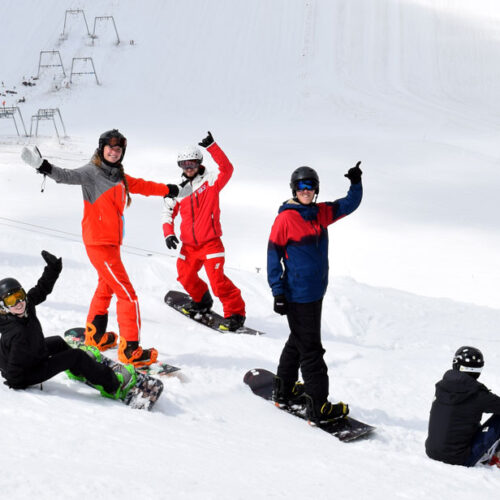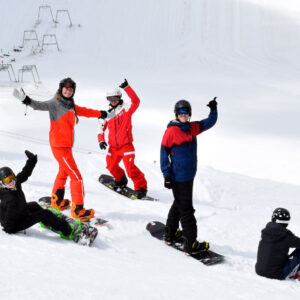 Snowboard Instructor Course in Fieberbrunn The 10-day snowboard instructor course in
...
No event found!
Frequently asked questions
How well should I be able to snowboard?
A good guideline to estimate whether your snowboard level is sufficient to start training, we do on the basis of the number of weeks of experience. Our experience shows that for most participants, 6-8 weeks of experience on the slopes in the mountains is sufficient to take part in an Anwärter training course. Of course, this is not a guarantee. It will be easier for some than for others. Participants with a sporting background and who already have experience with (sports) instruction can also complete the training positively with fewer weeks of experience. Participants with many weeks of experience may fall into the trap of having developed the wrong style that needs to be learnt.
As a snowboard instructor, you should be able to demonstrate controlled and rhythmic, long and short turns on a red slope during the practical exam. You are also expected to have some basic freestyle skills, such as an ollie and a 180. And you must have experience with the carving technique. In addition, you will have to demonstrate two more basic turns at the practical exam.
If you feel confident and confident on your snowboard, then you are ready for it!
Which snowboard practical exams are there?
The snowboard practical exams consist of three parts:
1) 'Schulefahren', demonstrating basic snowboarding techniques.
2) 'Eigen Können', the demonstration of advanced snowboarding techniques.
3) 'Freestyle', a number of piste tricks, such as ollie/nollie, tail manual, nose roll/tail roll, 180 and a number of switch turns.
– All practical parts should be rounded off positively.
– There is an obligation to be present for all practice and theory.
What material do I need for the Snowboard course?
Snowboard material
We advise you to participate with your own snowboard and snowboard boots, you are familiar with that. Before the start of the course, it is a good idea to wax and sharpen them.
For the course, we recommend an all-round or all-mountain snowboard. You will mainly need to do exercises for novice snowboarders. So your material should not be too long, too stiff or too heavy.
Snowboard clothing
Whether you are following a winter or summer course, you will always take a complete winter sports equipment with you. When it comes to clothing, it is good to wear three layers. A first basic layer consisting of thermal underwear and ski socks to keep you dry and warm. A second layer is an insulating layer that stores heat and transports perspiration. The third layer consists of a waterproof layer and protects you against rain, snow and wind.
Also, make sure you have good gloves, you will do well to have two pairs during a course of training or season. You can also think of some thinner gloves during summer training. Good materials are a 'must' for a snowboard instructor. If you still need new materials, take a look at our webshop!
During all courses there is a helmet obligation!
Snowboardtraining | Snowworld
Snowsports Instructor organises snowboard training courses in Snowworld Zoetermeer prior to a course. These training courses are in preparation for a snowboard instructor course. Intermediate training for the shared course. Or training for a practical opportunity.
During the four-hour snowboard training we focus on improving your snowboard position and turning rhythm. We do this by means of a number of snowboard exercises and video analysis in which we critically analyse and improve each turn phase. We train on your own skills and the basic turns that need to be demonstrated at the exams in Austria. And of course, we train the freestyle part and the carving technique! In this way, you will be well prepared for the training or retake and you will increase your chances of success for your Anwärter diploma!
Check our agenda when all trainings take place.
What does job placement mean for snowboard instructors?
In recent years we have built up an extensive network at ski schools in Austria. However, the demand for snowboard instructors is lower than for ski instructors, which is why we offer job mediation for snowboard instructors. There are always a number of vacancies for snowboard instructors, but this is much more limited. So try to contact several ski schools or snowboard schools yourself! And if you can also ski, you can also follow a dual instructor course. This considerably increases your chances of getting a job! However, we do have a number of important conditions for job placement:
1) Diploma
You must apply for the snowboard instructor course and obtain the Anwärter diploma.
2) Availability
You must be available at least in high season (Christmas and/or spring break) or for the whole season (mid-December to mid-March).
3) C.V. + motivation letter in German
You must submit a CV and motivation letter in German with a passport photo at the latest one month before the start of the high season.
4) Language
You must have a good command of the German language. The ski school boss often wants to talk to you on the phone beforehand and has the last word.
Can I teach at a ski school and combine travel?
Yes, ski schools are often very busy during the holiday periods, but outside it is always a bit quieter. These quiet periods you could work for travel agencies such as Husky. Put this in your email with CV and motivation letter and we will get to work!